Workshops
Upcoming workshops
Making Carbon: A Materials Workshop Series on Durability (2022 – 2023)

We are organizing a series of hands-on workshops that will bring together humanists, scientists, and artists to bridge conversations about "sustainability" and "durability" across disciplines. These workshops will center on the broad theme of "Making Carbon," and each will explore a separate set of materials: 1) "Mushrooming Plastics"; 2) "Dyes That Last?"; and, 3) "Casting with Clays and Futuring with Fossils." This project is in collaboration with the Material CoLABoratory Project (funded by the Utrecht Young Academy). For more info, please click here.
December 14-15, 2022: Workshop 'Dyes that Last?' (MatLab Utrecht)
In this workshop a group of artists and scientist will challenge culturally encoded ideas about how to achieve the durability of color in materials such as textiles – and why – across scientific and humanistic research.
Date to be announced: Workshop 'Casting with Clays and Futuring with Fossils' (MatLab Utrecht)
Workshop in which we will examine how researchers and artists use fossil and clay materials from deep time and ancient human history to either forecast into the future or solve current environmental problems.
Past workshops
September 13-14, 2022: Workshop 'Mushrooming Plastics' (MatLab Utrecht)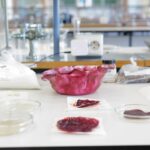 A group of scientists and artists gathered together to have a productive conversation around plastic materials—and their various "mushroomings." Together they explored the paradoxical relationship between the material properties of durability and degradation amid recent research into plastics decomposition and substitution.
September 8, 2022 : Workshop 'OSK Sectiedag Atelierpraktijken en Geschiedenis van de Kunstproducten' (ArtLab Utrecht)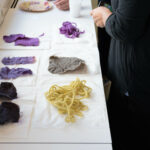 During this workshop we reconstructed historical paints and explored how and when they discoloured.
For more info click here.
June 7 – 11, 2022: 'Gold & Mercury' Workshop (ArtLab Utrecht)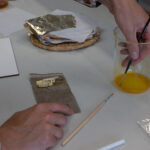 The DURARE team hosted a hands-on workshop for the Lorentz Center symposium, "Gold & Mercury | Metals in Transit" to explore medieval mordant gilding. We divided into three teams to reconstruct three different mordants composed of saffron, eggs, almond gum, and more! These ingredients were used to gild cloth and wooden panels with gold leaf.
May 16 and May 24, 2022: 'Glue' Workshop 2 & 3 (ArtLab Utrecht)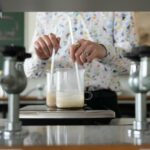 Historian Ariane Fennetaux from Université Denis Diderot (Paris) joined us to explore 15th-century glue recipes for repairing parchment and paper with breadcrumbs and flour! For photos and more details, check out our Instagram story. Follow @ArianeFennetaux on Twitter.
March 21, 2022: 'Geheugen van Geur' Workshop 3 (ArtLab Utrecht)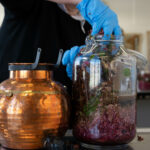 Read the article in the Volkskrant about this project by the DURARE team.
July 29, 2021: 'Geheugen van Geur' Workshop 2 (ArtLab Utrecht)
July 23, 2021: 'Geheugen van Geur' Workshop 1 (ArtLab Utrecht)
February 23, 2022: 'Glue' Workshop 1 (ArtLab Utrecht)